Top 5 Reasons to Wear Driving Gloves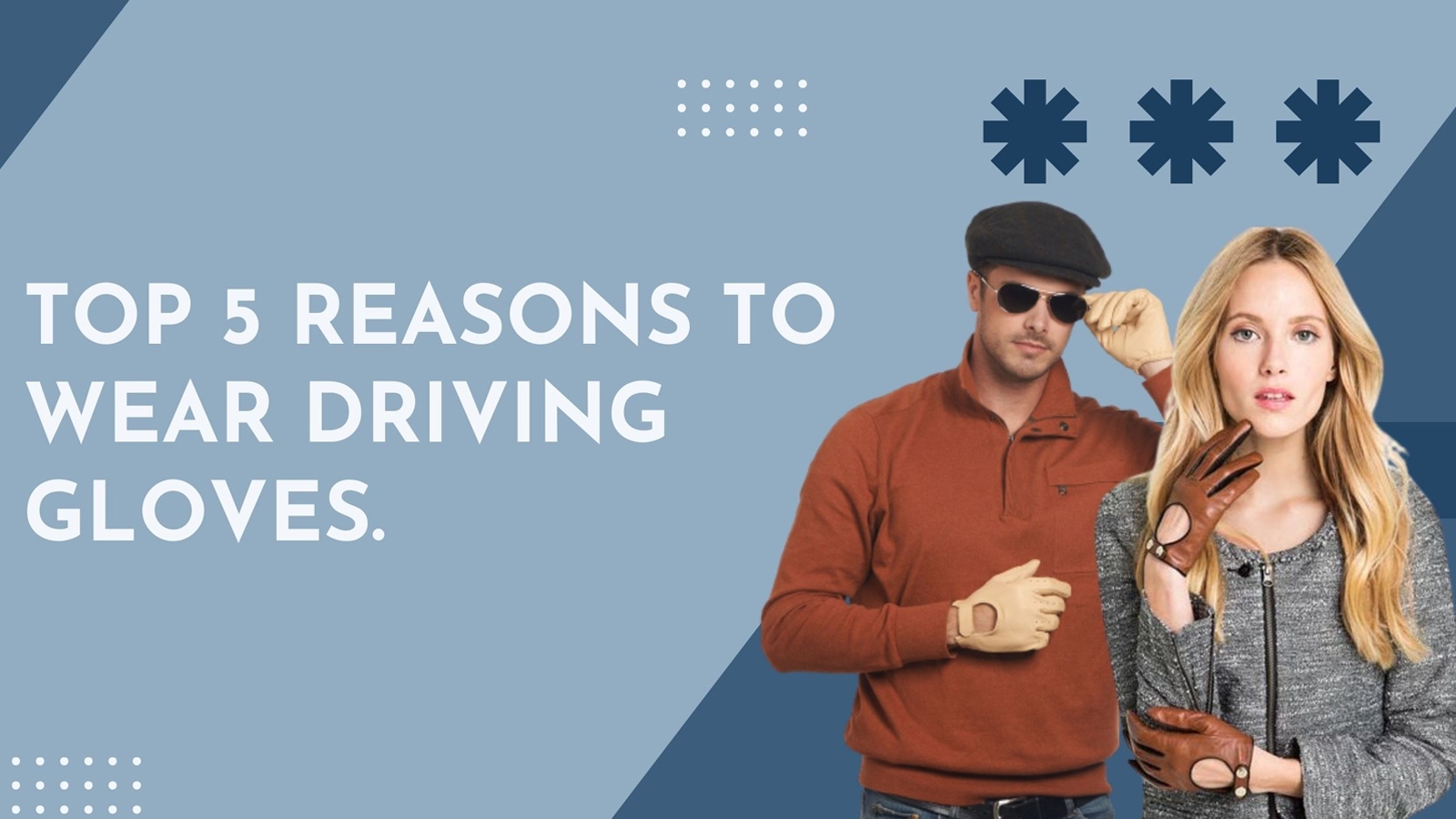 The best leather driving gloves are gloves that are specifically designed to enhance the driving experience. Driving gloves have several benefits, such as:
Enhance Your Driving Experience with Greater Dexterity:
Driving gloves go beyond style to provide you with exceptional control and grip over the steering wheel. Whether you're navigating rain-soaked roads or facing sweaty palms, these gloves are designed to prevent the steering wheel from slipping out of your hands. This translates to enhanced handling and maneuverability of your vehicle, elevating both your safety and confidence on the road. With a focus on dexterity, select models even feature touchscreen compatibility such as our Momentum Men's Leather Touchscreen Driving Gloves, allowing you to seamlessly interact with your devices without compromising your grip. If you're looking for a more minimalistic approach without compromising on performance, the Barcelona Men's Shorty Leather Driving Gloves or  the Tough Gloves Freedom Glove would be great choices. Crafted with precision and functionality in mind, these gloves offer ½ finger design that maintains tactile sensitivity for your fingers while ensuring a secure grip with your palm. The Barcelona glove, with its elasticized wrist and snap closure, blends seamlessly with your hand's contours.  The Tough Gloves Freedom Gloves, made from our finest thinnest water resistant cabretta leather has adjustable straps and open knuckles.  The Freedom Glove lets you feel the road with a heightened connection. Experience the perfect blend of style and functionality, as these gloves empower you to master the road with precision and control.  In a traditional full finger design, the Tough Gloves Stealth Driving Glove is the ultimate in fine cabretta leather gloves. The extra thin .8mm Cabretta Leather conforms to your hands so wonderfully you may forget you are wearing them.  And the snap closure and traditional driving glove design means these gloves can fit tightly, fully conforming to your hands but remain extremely easy to don and remove.
Reduced hand fatigue:
Driving gloves can also reduce the vibration and pressure from the steering wheel, which can cause hand fatigue and discomfort over long periods of driving. Driving gloves can cushion your hands and provide support for your wrists and fingers, making the drive more enjoyable and less tiring.
Comfort:
Driving gloves are more than just a fashion statement – they're engineered to heighten your driving comfort. They're adaptable to weather conditions, providing warmth in colder temperatures and breathability in the heat. Take, for example, the Silverstone Men's Leather Driving Gloves, equipped with perforated vent holes, allowing your hands to stay comfortable and well-ventilated. The Streamline Women's Deerskin Driving Gloves, crafted from soft North American deerskin leather, offer a plush touch that enhances your driving comfort. But comfort goes beyond the physical. The right pair of driving gloves adds a layer of elegance to your driving ensemble, boosting your confidence behind the wheel. Whether it's the classic sophistication or modern flair you seek, driving gloves strike the perfect balance between style and function, ensuring you enjoy your drive in utmost comfort and confidence.
Improved Protection:
Driving gloves offer more than just a stylish accessory – they're designed to enhance your safety on the road. Beyond their aesthetic appeal, these gloves provide a valuable layer of protection for your hands. In the event of an accident, the right driving gloves can help protects your hands from minor cuts and abrasions, reducing the risk of injury. Take the Momentum Men's Leather Touchscreen Driving Gloves, for example, made from fine-grained genuine sheepskin leather with traditional knuckle holes. These gloves not only provide a stylish appearance but also contribute to safeguarding your hands during unexpected situations.
Moreover, driving gloves can serve as a protective barrier between your hands and the steering wheel. With the potential for wear and tear, moisture, and stains caused by prolonged contact, gloves like the Downshift Men's Leather Driving Gloves can help preserve the condition of your steering wheel. Crafted from unlined fine-grained sheepskin leather, these gloves not only provide a comfortable grip but also prevent the accumulation of moisture and potential damage.
Tradition and prestige:
The significance of driving gloves is deeply rooted in the rich history and tradition of the automotive world, tracing back to the formative era of motoring when automobiles were characterized by their rudimentary design and less-than-optimal driving conditions. In those early days, driving gloves held a dual role: they symbolized an individual's social status and refined taste, while also serving as a pragmatic essential for a more comfortable driving experience. As time has progressed, the allure of driving gloves has endured, retaining their association with opulence and craftsmanship. These gloves not only evoke a sense of luxury and excellence but also evoke the unwavering passion and devotion that true driving enthusiasts hold for the art of motoring. Stompers Gloves has the best men's and the best women's leather driving gloves on the market.